Documentary Screening – "709 Fellows"
April 12, 2017 @ 8:00 pm

-

10:00 pm

Free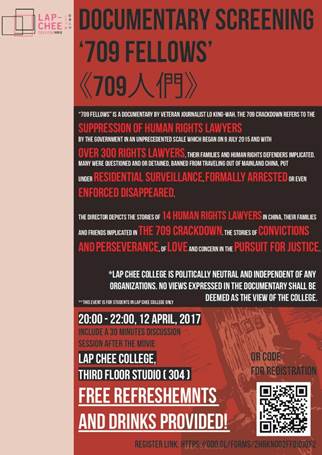 Do you want to know more about the human rights conditions in China? We are now organizing a  free screening of a newly produced human rights documentary named '709 Fellows' (709人們) [2016] in Lap-Chee College. It is directed by Lo King-wah, an experienced journalist and concerns about conditions of human rights lawyers in China. There will be a post-screening discussion to allow you to fully explore the issue and express your view on the current situation. Free refreshments and drinks are provided in the screening.
Event Details:
Date: April 12th (Wednesday)
Time: 20:00 – 22:00 (Documentary Screening and Post-Screening Discussion)
Venue: Room 304 (Studio), Lap-Chee College
Free refreshments and drinks are provided!
To register for the event, please visit https://goo.gl/forms/2hrKnO02fF0i0jDf2
Remarks: 
1. Lap-Chee College is politically neutral and independent of any organizations. No views expressed in the documentary shall be deemed as the view of the College.
2. This event is only for Lap-Chee students
For inquiries regarding the event, please contact the organizers Woody at 6283 4212 or Toby at 9886 0527. 
Please come and join the screening! We look forward to seeing you!