2021 Pressed Flower Art Workshop: "Chances to Possibilities" Enhance Life Experimental Certificate Course
February 3, 2021 @ 7:00 pm

-

8:30 pm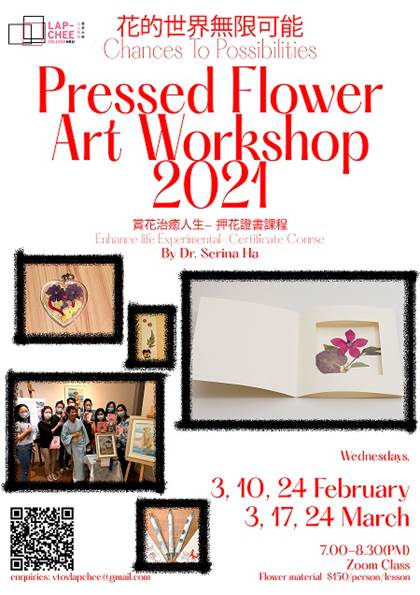 Dr. Serina Ha is offering us another online pressed flower art workshop this semester. It includes 6 classes in total. A certificate will be issued for attendance with 80% or above.
Please don't hesitate to sign-up this time!
Date: February 3,10,24, and March 3, 17, 24 (Wednesday).
Time: 7:00-8:30 p.m. (Zoom Class)
Material Fee: 150 HKD /student /class (No refund if the student cannot attend any of the lessons)
Deadline for Registration: January 15, 2021.
Registration: Click Here
What is pressed flower art?
Pressed flower craft is the art of using pressed flowers and botanical materials to create an entire picture from these natural elements. Flowers, petals, leaves and other organic materials are being pressed until dry and flat, using a variety of pressing techniques. This craft has long been practiced as an art form in China and in Japan, where it is known as Oshibana. As early as the 16th century, Samurai warriors were said to have studied the art of Oshibana as a means of enhancing their powers of concentration, and of promoting patience and harmony with nature. Princess Grace Kelly of Monaco also practiced Oshibana and helped promote the art of pressed flowers worldwide.
押花藝術
押花藝術取材大自然的元素,將花朵、花瓣、葉子和其他有機材料,經過各種壓制技術,製成圖畫。據說早在16世紀,日本武士就以研修押花藝術,作為提高集中力、耐力以及促進人與自然和諧共處的手段。摩納哥嘉麗絲王妃曾習押花藝術,協助推廣押花藝術至世界各地。
About
Dr. Serina Ha Miu Yin holds a Ph.D. in Japanese Studies from the School of Modern Languages and Cultures at the University of Hong Kong. Having graduated MA in Communication and MSocSc in Media Management in the Hong Kong Baptist University, Dr. Ha is also an expert in the Media and Creative industry and won 20 international awards in past years.
She is an accomplished Japanese Botanic Artist, as well as a Pressed Flower and L'écrin Instructor of the Japan Fushigina Pressed Flower Association. Her Pressed Flower art was first recognized at the 9th World Pressed Flower Craft Exhibition in Goyang Korea back in 2015 and her works have been widely exhibited in Osaka, Tokyo, Philadelphia and Hong Kong over the years.
She recently won the 1st Prize Award in the Philadelphia Flower Show 2020 after receiving the Honorable Mention Award in 2017. She has also been awarded the Best Art Award in L'écrin Flower Competition in Tokyo in 2017 and 2018. She had released her book "Chances to Possibility" in July 2020.
Please feel free to contact us if you have any question: vtovlapchee@gmail.com