High Table Dinner
September 27, 2017 @ 6:30 pm

-

9:30 pm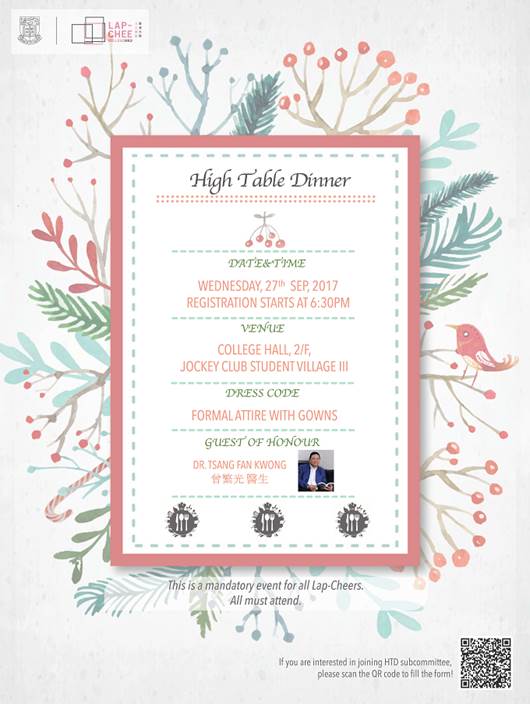 Dear Lap-Cheers,
Please be reminded that the upcoming Lap-Chee College High Table Dinner will be held on Wednesday, 27th September 2017.
The details are as below:
Date

:

Wednesday, 27th September 2017

Time

:

Registration starts at 6:30

Latecomers after 7:15pm will be considered as absent without prior approval.

Venue

:

College Hall, HKU Jockey Club Student Village III

Guest of Honour

:

Dr Tsang Fan Kwong

Dress Code

:

Formal attire with gowns.  Students who do not dress according to this requirement will be asked to leave the College Hall and will be regarded as absence.

Seating Arrangement

:

Please sit according to the instructions from the Floor Management Team onsite.
As this is a mandatory event in Lap-Chee College, students who will be absent, late or require early departure due to classes should write to lapcheecollege@hku.hk with valid proof, and also inform your floor tutor before Monday, 25 September 2017. Any absence without prior approval will be issued with a warning letter.
Please bring along your student card for registration. In order to relieve rush-hour crowds at the elevators and the registration line, please take the stairs to podium and arrive at 6:30 pm.
Please kindly fill in the form below to let us know your preference for the main course before 22 September 2017:
Biography of Dr. Tsang Fan Kwong:
Dr. Tsang Fan Kwong graduated from The University of Hong Kong. Dr. Tsang is an experienced psychiatrist currently working in the private practice who had previously served in the public mental health sector for more than 20 years. He has been dedicating tremendously in mental health promotion, including emotion management, stress coping, positive psychology, establishment of interpersonal relationship and parent-child relationship.  It is our privilege to have Dr. Tsang to share us some tips and advice on mental health.
Best Regards,
High Table Dinner Sub-Committee