High Table Dinner
October 30, 2017 @ 6:30 pm

-

9:30 pm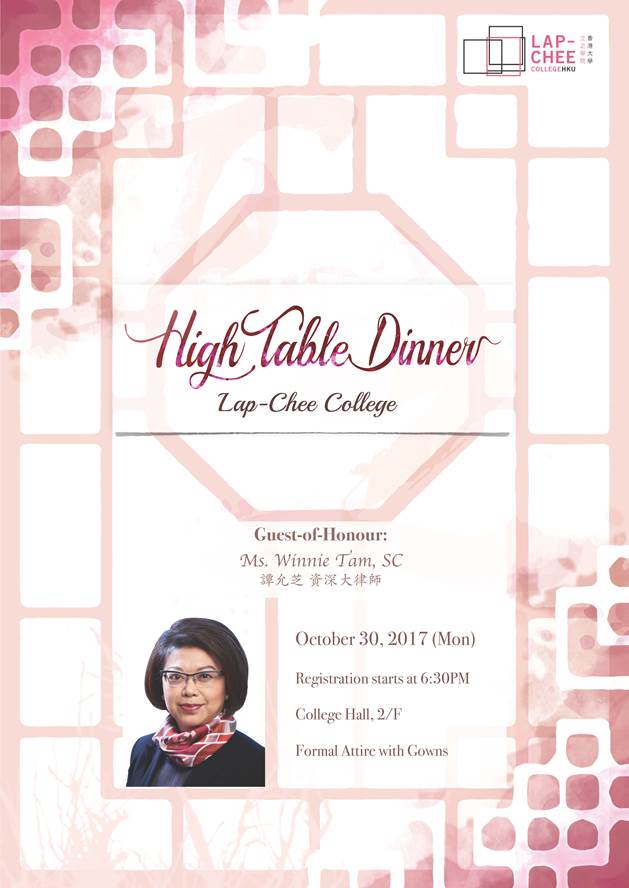 Please be reminded that the upcoming Lap-Chee College High Table Dinner will be held on 

Monday, 30th October 2017

.
The details are as below:
Date

:

Monday, 30th October 2017

Time

:

Registration starts at 

6:30pm

Latecomers after 

7:15pm

 will be considered as absent without prior approval.

Venue

:

College Hall, HKU Jockey Club Student Village III

Guest of Honour

:

Ms Winnie Tam, SC

Dress Code

:

Formal attire with gowns.  Students who do not dress according to this requirement will be asked to leave the College Hall and will be regarded as absence.

Seating Arrangement

:

Please sit according to the instructions from the Floor Management Team onsite.
As this is a mandatory event in Lap-Chee College, students who will be absent, late or require early departure due to classes should write to lapcheecollege@hku.hk with valid proof, and also inform your floor tutor before Friday, 27 October 2017. Any absence without prior approval will be issued with a warning letter.
Please bring along your student card for registration. In order to relieve rush-hour crowds at the elevators and the registration line, please take the stairs to podium and arrive at 
6:30 pm.
Vegetarians can collect main course tickets at the registration counter. Residents can send questions to Guest-of-Honour, Ms Winnie Tam SC via the link: https://goo.gl/forms/B8rGhaIOiwVwArWu2.
Biography of Ms Winnie Tam SC
Winnie Tam SC is the immediate Past Chairman of the Hong Kong Bar, and have served on the Council or committees of the Hong Kong Bar Association for many years. Ms Tam was appointed Senior Counsel in 2006. Her practice spans a wide range of litigation and arbitration in commercial and civil matters with an emphasis in intellectual property law. She is a panel arbitrator of the Hong Kong International Arbitration Centre, and the South China International Arbitration Institute. She also sits as a Recorder of the Court of First Instance of the High Court of Hong Kong SAR, and is a member of the Judicial Officers Recommendation Commission of the HKSAR.
Ms Tam has a deep interest in western classical music and Chinese classical arts and literature, and was for many years an active choral singer, choir director and concert soloist in Hong Kong. She has remained a keen supporter of the musical arts through her work in the registered charity "Lin Yao Ji Music Foundation" that supports the development of young string talents by awarding scholarships and promotes education and a wider appreciation of string music in Hong Kong.
Best Regards,
High Table Dinner Sub-Committee