Lantern Parade under Full Moon
September 15, 2016 @ 7:30 pm

-

10:00 pm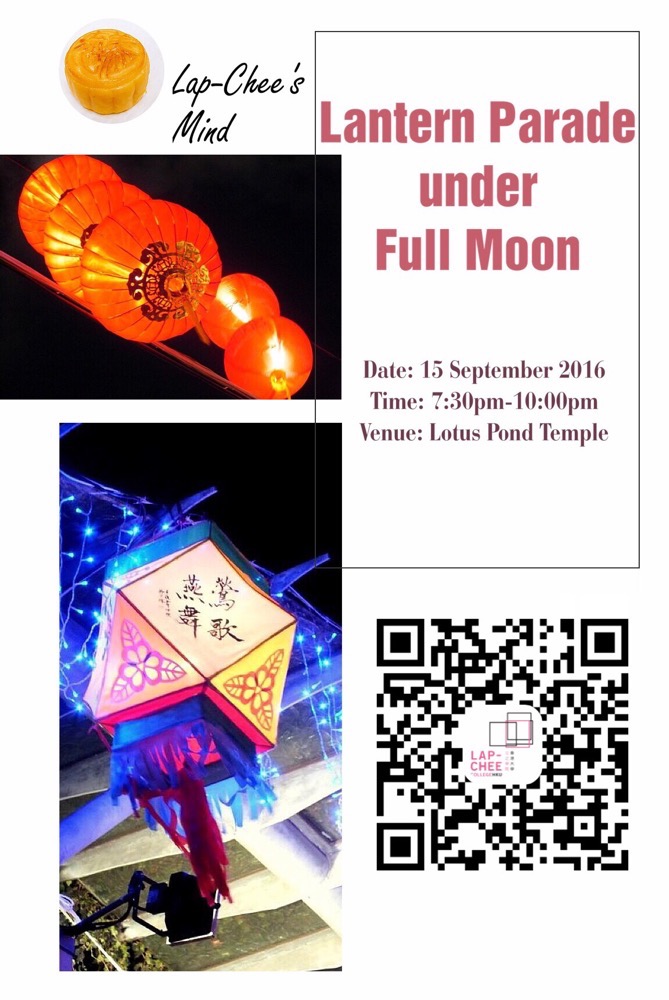 Welcome to HKU during the cool and festive atmosphere of the coming Full Moon season. To enrich your life experience here, we would like to invite you to a trip to Lotus Pond Temple in Tung Chung (Lan Tau Island).
Activities:
– Learn to make lanterns with friends
– Enjoy tea and mooncakes in mindfulness
– Do lantern parade under the full moon in the mountain
– Do some performance with friends
Transportation:
– We will go by MTR from Kennedy Town to Central (Fare: 5.3HKD), and then from Central to Tung Chung (Fare: 22.4 HKD)
– At Tung Chung, we will catch Bus 23 from Tung Chung Station to Ngong Ping (Lotus Pond Temple) (Fare: 25HKD)
– After the event ends, we will go back to Tung Chung Station on a bus booked by the temple (Fare: 40HKD), and then use the MTR to go back home.
Date: Thursday 15th September, 2016
Time: 7:30am – 10:00pm
Registration:
– This activity is limited for 20 students on first come first serve basis.
– Register here: https://goo.gl/forms/mOHILQzPbVFW2Yt82
Contact:
– If you have any questions, please kindly contact us at lapcheesmind@gmail.com