Lap-Chee College x Local NGO: Drama Performance (in Cantonese)
November 22, 2016 @ 7:30 pm

-

8:30 pm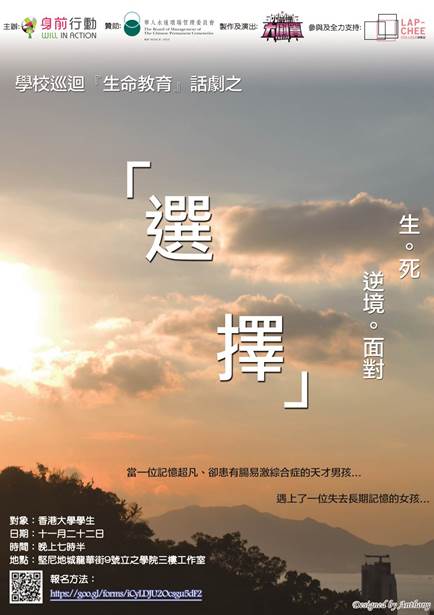 A local NGO "Will in Action"身前行動 produced a drama show discuss the topic of "Choice" focusing onpromoting positive attitude to students, for more information please visit the website http://www.wia.org.hk/ . This drama intends to help our college residents to face up stress and adverse event.
More information from "Will in Action":
「身前行動」成立於2009年,是香港註冊、非政治及非宗教的獨立非牟利慈善團體,致力推動「生命教育」及「器官捐贈」,鼓勵大眾珍惜生命、活在當下,活出圓滿的精彩人生。(詳情請瀏覽www.wia.org.hk 或Facebook專頁 www.facebook.com/WillInAction)
是次巡迴話劇將以「選擇」為題,連同討論環節,全長約為30分鐘。本劇主要於全港各中學及大專院校上演,旨在透過話劇將嚴肅的生死議題,以輕鬆、活潑和易明的形式表達,讓同學們學習以正面和積極的態度面對逆境,並學會珍惜生命。
為了使話劇的內容更適合於學校演出,本會邀得臨床心理學家擔任顧問,為故事內容及討論環節提供專業意見。
Don't hesitate to join us to enjoy this drama show!
Date & Time: 19:30-20:30, 22 Nov 2016 (Tuesday)
Venue: Room 304, Lap-Chee College
Performance Language: Cantonese
We look forward to seeing you to join and enjoy the show!