The Vagina Monologues 2018
March 20, 2018 @ 8:00 pm

-

10:00 pm

HKD20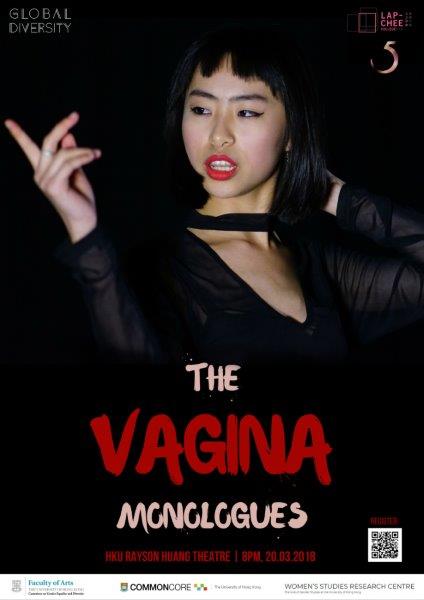 "It's a totally ridiculous, completely unsexy word. If you use it during sex, trying to be politically correct –
"Darling, could you stroke my vagina?"
– you kill the act right there. I'm worried about vaginas, what we call them and don't call them."
The Vagina Monologues, Eve Ensler
"Probably the most important piece of political theatre of the last decade."
The New York Times, Charles Isherwood
The Vagina Monologues is a series of episodes written by Eve Ensler about women's experiences: sex, abuse, love and birth. Since its debut in 1996, it has been performed in over 140 countries with critical acclaim, featuring famous actresses such as Meryl Streep and Oprah Winfrey. Benefits from The Vagina Monologues, along with the V-Day movement, have raised over US$100 million for anti-violence against women organisations.
Our performance last year has received tremendous positive feedbacks, and we are delighted to bring you our very own production of The Vagina Monologues at HKU again this year to celebrate the spirit of women's empowerment. Join us in a brilliant, hilarious, turbulent, and at times outrageous night at Rayson Huang Theatre, where our actresses representing various female identities will inspire and expand your insights about womanhood and sexuality.
Performance details
Date: March 20th, 2018 (Tuesday)
Time: 8pm to 10pm
Venue: Rayson Huang Theatre, HKU
Tickets: $20
~***FREE OF CHARGE for current HKU STUDENTS***~
Cocktails will be served before the performance
Register now!
Visit our Facebook Page: