Think@Cafe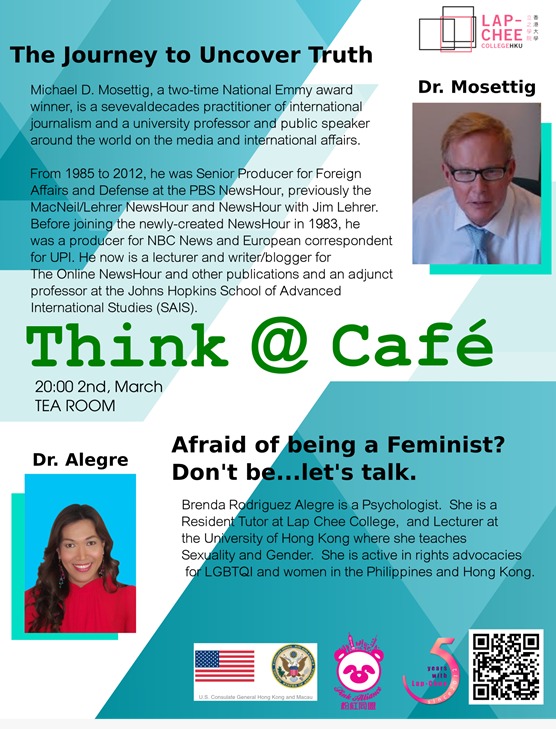 Dear JCSVIII students,
Lap-Chee THINK@Café 
is 
so honored to co-host with Hong Kong's Pink Alliance Mr. Michael Massetig, a renowned Emmy Award winning US journalist. In his series of talk in Hong Kong titled "Journalism in the age of Trump", he will stop by JCSVIII to share his experiences and insights about political journalism, critical issues and uncovering the truth.
The programme includes short talks, which will be followed by dynamic discussions opened up to the floor. Free food and drinks will be provided!
Where:
 The Lap
–
Chee Chinese Tea Room, 3rd Floor
When:
Friday, 2nd March 8pm.
Topics:
The Journey to Uncover Truth
(by Mr. Michael Massetig)
Afraid to be a Feminist?….don't be, let's talk.
(by Dr. Brenda R. Alegre, Resident Tutor Lap
–
Chee 
C
ollege)
Feel free to scan below or email us to pre
–
register or if you have further enquiries
:
brendara@hku.hk
We aim at providing a broad platform for all postgraduate/undergrad students to make friends, to create research networks, and to share interesting ideas. This project is run by Lap-Chee College. We are very much looking forward to seeing you there!! 🙂
THINK@Café Organizing Team
https://www.facebook.com/hku.thinkcafe