Welcome to Lap-Chee College!
While you are settling down, our current residents have gladly prepared a Lap-Chee Survival Guide to give you a better idea about life at the College. The survival guide covers a wide range of information, from the people and the culture of the College, to some practical tips (food options, useful apps) when getting around Kennedy Town and Hong Kong.
As we welcome a new academic year, I am filled with delight and hope for the months ahead. In a move towards a new normal life and activities in the College, our tutorial team will start this academic year with a series of orientation events prepared for everyone: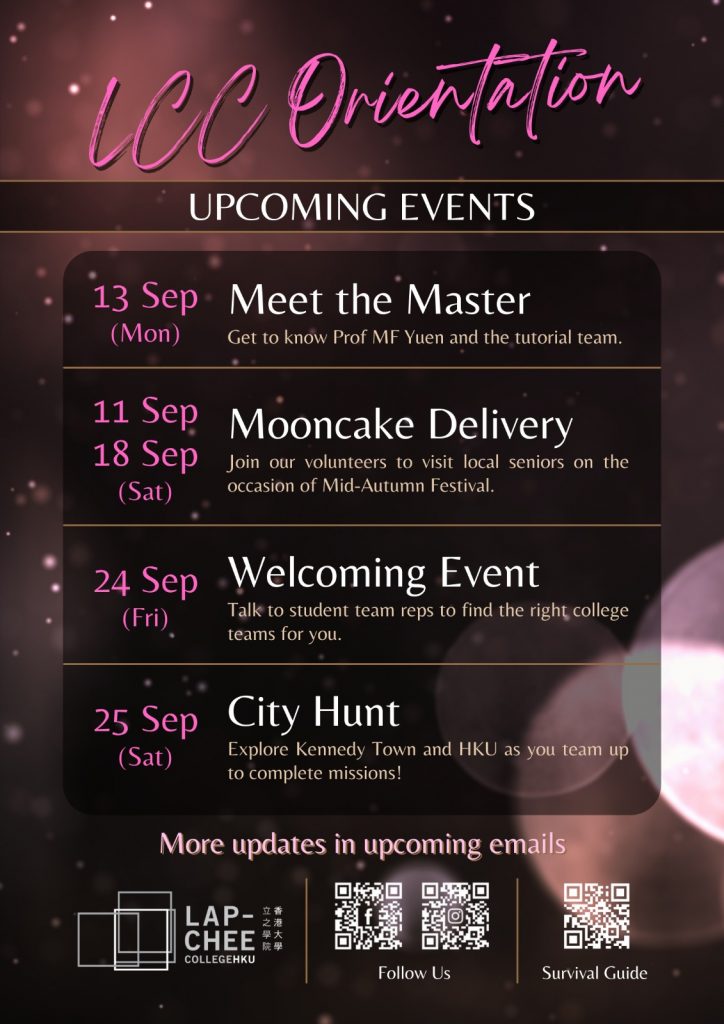 I would like to first meet and welcome you all on Zoom on 13 Sep (Mon), together with my tutorial team;
The College will also be holding a Welcoming Event on 24 Sep (Fri) and a City Hunt on 25 Sep (Sat) to introduce you to College teams and familiarise you with the neighbourhood;
And our signature college community project – Mooncake Delivery to the Elderly, will be held on 11 & 18 Sep (Sat).
More details will be provided later but please mark your diary for these events!
Meanwhile, if you have any enquiries, please feel free to contact your floor tutor. You may check the College's website and follow us on Facebook and Instagram for the latest updates.
I look forward to meeting everyone and wish you all a wonderful year ahead at Lap-Chee College!
Best wishes,
Professor MF Yuen
College Master