Readmission Forum 2021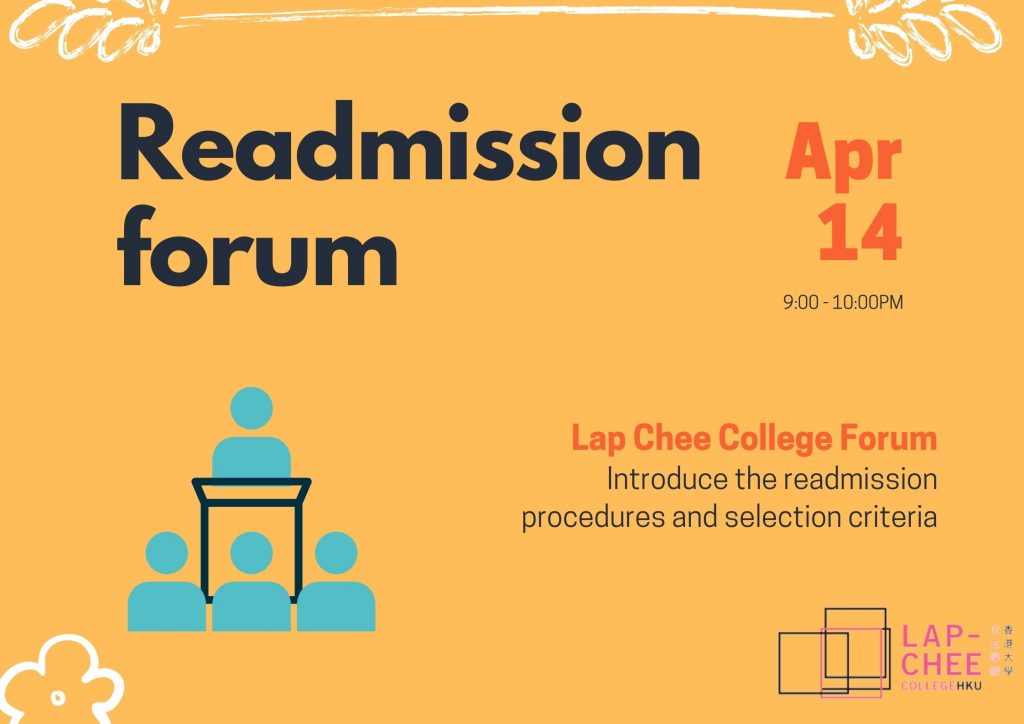 The Readmission Forum was held last week with Deputy Master Professor Kelvin Yeung and Resident Tutor Dr. John Kubi sharing and explaining the readmission details. Around 100 Lap-Cheers attended the forum, and we had in-depth discussions on the topic. Here are some crucial points summarized by the Media Team:
The readmission procedure was introduced step by step. As about 200 new applications were received for readmission this year, our college will evaluate each applicant with careful consideration. There will be two readmission rounds. Every applicant has only one application round opportunity. The detailed requirements of each round are shown on the Village Admission page (Admissions Jockey Club Student Village III (hku.hk)). For the Round I applicants, they MUST complete the internal application form before 7th April at 10:30 am and submit the CEDARS online Round I admission 2021-2022 application form from 14th April to 23rd April. Applicants are required to submit detailed statements to convince the readmission panel to consider their applications. Some students, for example, who have not physically stayed in the college for over a year, cannot access the R1 readmission application. CEDARS will contact them to submit an application for consideration during R2 readmission.
Due to the COVID-19 situation this year, the college activities, university academic classes, and related activities were affected. After consideration, the readmission panel decides to evaluate the students' performances based on the existing merit-based readmission criteria. This includes the recommendation from the management and tutorial team, number of years resided in college, active participation in college activities, good citizenship, and readmission quota set by Governing Committee. Besides, Need-based readmission will be considered case by case. The adverse home environment and distance will be considered. There will be no face-to-face or online interview this year.
The result will be announced by CEDARS. Unsuccessful applicants may submit an appeal in the College Admission System via the HKU portal within 72 hours immediately following the announcement of the results.
TEXT: LEI Yao
IMAGES: LEI Yao